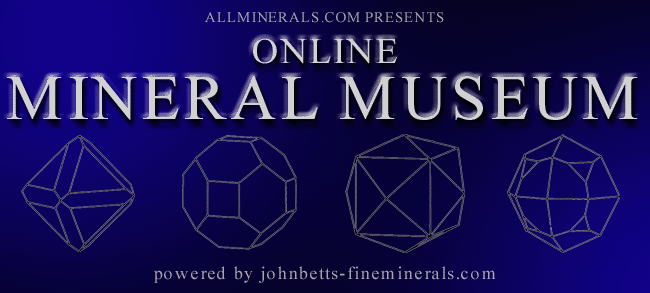 Online Mineral Museum at AllMinerals/JohnBetts-FineMinerals

---
Since the inception of the original web site for John Betts-Fine Minerals 61,133 mineral specimens were photographed, described, cataloged and sold. This is a virtual mineral museum of all of the sold mineral specimens that is updated annually. Hundreds of mineral species from thousands of mines and mineral localities can be found here. Many can be found nowhere else on the Internet. Allminerals.com and JohnBetts-FineMineral.com are two domains of the same company founded by John Betts. We are pleased to present this reference to mineral collectors, researchers and students.
The minerals can be searched by species, region, chemical group or locality. Additionally there are special galleries for themes such as pseudomorphs, fluorescent minerals, and for special localities of interest. All of the minerals in the museum sold. But links are provided to galleries of minerals for sale if you desire to purchase similar specimens or from similar localities.
I hope you find this Mineral Museum a valuable reference of mineral species photographs.
>>> Search all 61,133 mineral specimens / 181,150 photographs in the Mineral Museum
| | | | | |
| --- | --- | --- | --- | --- |
| SPECIES | GROUP | GEOGRAPHIC | SPECIAL | FAVORITES |
| Acanthite_to_Azurite | Apatite & Phosphate Minerals | Canada | Pseudomorphs of the World | Apatite |
| Babingtonite_to_Bykovaite | Barite & other Sulfate Minerals | Mexico | Minerals of the Millington Quarry, New Jersey | Apophyllite |
| Cacoxenite_to_Cyrilovite | Calcite Specimens | Brazil & South America | Minerals of Braen's Quarry, New Jersey | Aquamarine Beryl |
| Danalite_to_Dzhalindite | Carbonate Minerals | UK, Iceland, Greenland, and North Atlantic | Minerals of Maine | Arfvedsonite |
| Eakerite_to_Eztlite | Diamond Crystals | Europe | Minerals of New Hampshire | Azurite |
| Fairfieldite_to_Fülöppite | Native Elements | Russia & former Soviet Republics | Minerals of Vermont | Barite |
| Gadolinite_to_Gyrolite | Feldspars and other Silicates | China, Japan, Australia & Pacific Rim | Minerals of Massachusetts | Beryl |
| Hainite_to_Hydrozincite | Fluorite & other Halides | India, Pakistan, Afghanistan | Minerals of Rhode Island | Bournonite |
| Iddingsite_to_Ixiolite | Garnet Specimens | Africa | Minerals of Connecticut | Brochantite |
| Jacobsite _to_Jungite | Gem Minerals | | Minerals of New York | Calcite |
| Kainite_to_Kyanite | Magnetite & other Oxides | | Minerals of New Jersey | Celestine |
| Labradorite_to_Luzonite | Micas and other Silicates | USA | Minerals of Pennsylvania | Cerussite |
| Macdonaldite_to_Mushistonite | Molybdates, Arsenates & Miscellaneous | New England, USA | Minerals of Virginia | Copper |
| Nabesite_to_Nyerereite | Pseudomorphs | New York & New Jersey, USA | Minerals of New Mexico | Corundum |
| Obradovicite_to_Ozokerite | Quartz Specimens | Mid-Atlantic, USA | Minerals of Arizona | Cuprite |
| Pachnolite_to_Pyrrhotite | Silicates | Midwest, USA | Minerals of California | Datolite |
| Qaqarssukite_to_Quintinite | Sulfide & Sulfosalt Minerals | Rocky Mountain States, USA | Minerals of the Tsumeb Mine, Namibia | Dioptase |
| Raite_to_Rutile | Tourmaline Crystals | Arizona & New Mexico, USA | | Native Elements |
| Safflorite_to_Szenicsite | Zeolite & Associated Minerals | Western States, USA | | Ferberite/Huebnerite |
| Tacharanite_to_Tyuyamunite | | | Calcite Specimens of the World | Fluorite |
| Ulexite_to_Uzonite | | | | Galena |
| Valentinite_to_Vuorelainenite | | | Diamonds | Garnets |
| Wadalite_to_Wurtzite | | | | Gold |
| Xanthoconite_to_Xocomecatlite | | | | Hematite |
| Yoderite_to_Yugawaralite | | | | Herkimer Diamonds |
| Zairite_to_Zoisite | | | | Heulandite |
| | | | | Inesite |
| | | | | Jeremejevite |
| | | | | Kinoite |
| | | | | Laguna Agates |
| | | | | Liddicoatite Tourmaline |
| | | | | Ludlockite |
| | | | | Magnetite |
| | | | | Malachite |
| | | | | Microcline, Albite |
| | | | | Mimetite |
| | | | | Natrolite, Mesolite, Scolecite |
| | | | | Phosphohedyphane |
| | | | | Prehnite |
| | | | | Pyrite |
| | | | | Pyromorphite |
| | | | | Quartz |
| | | | | Ramsdellite |
| | | | | Rhodochrosite |
| | | | | Silver |
| | | | | Smithsonite |
| | | | | Sphalerite |
| | | | | Sulfates |
| | | | | Topaz |
| | | | | Tourmalines |
| | | | | Vanadinite |
| | | | | Volborthite |
| | | | | Wulfenite |
| | | | | Fluorescent |
| | | | | Tanzanite |
| | | | | Diamonds |