---

Fluorescent Mineral Sites and Museums in Sussex County, New Jersey

---
This web page is provided as a resource to mineral collectors.
Contact the property owner before entering the property to obtain written permission to collect minerals.
John Betts does not own this property and he cannot grant permission to enter the site.

Sterling Hill Mine Museum, Ogdensburg, NJ
Description: The Sterling Hill Mine Museum is at the site of the old Sterling Hill Mine. Purchased by the Hauck brothers and turned into a museum, the museum offers tours daily and dump collecting on the fourth Sunday of the month. This is a world famous location for mineral collectors, especially fluorescent minerals. Over 300 different minerals are found there. The tour goes underground at this famous zinc mine. You get to see the workings, the shops, and the famous rainbow room where there is an amazing display of the different fluorescent minerals and the ore body. There is also a museum display of minerals and mining.
Minerals: Fluorescent minerals - Calcite, Willemite, Zincite, Franklinite plus many exotic rare minerals.
Bring: Hand tools, food & water (though there is a snack bar), camera.
Collecting: Mineral collecting on the dumps is allowed on the last Sunday of every month. There is a $10.00 fee for the first ten pounds and $1.00 per pound for anything over ten pounds.
Directions: Look for signs on Route 517 (about a mile south of Ogdensburg) leading to the mine.
More Information: Call the Sterling Hill Mine Museum for more information at 1-973-209-7212
Franklin Mineral Museum, Franklin, NJ
Description: The town of Franklin built this great museum to educate visitors about the town heritage and history. There is a large collection of minerals from Franklin and around the world on display. The museum is built on the Buckwheat Mine dumps, they allow collecting up to five pounds of minerals with admission to the museum.
Minerals: Fluorescent minerals - Calcite, Willemite, Zincite, Franklinite plus many exotic rare minerals.
Bring: Hand tools, food & water, camera.
Directions: From the intersection of Routes 23 and 517 (south of downtown Franklin), proceed north on Route 23. At the first light turn left and follow signs to the Franklin Mineral Museum.
Fee: There is a $3.00(?) museum entrance fee.
Sample Minerals from this location: Franklinite in Calcite, Franklinite2
DO NOT CALL THE OWNER OF THIS WEB SITE REQUESTING PERMISSION OR MORE INFORMATION.
EVERYHTING KNOWN IS PRESENTED HERE ON THE PAGE.
This locality information is for reference purposes only. You should never attempt to visit any mineral localities listed on this site without written permission of the land owner and/or mineral rights owner and that you follow all safety precautions necessary to protect yourself and the property. Unfortunately, the status of mineral collecting sites change often. Inclusion in this site does not give an individual the right to trespass. ALWAYS ASK PERMISSION prior to entering a collecting location. ALWAYS RESPECT THE PROPERTY OWNER, you are his guest. Never enter a property posted no trespassing. When in doubt, do not enter the property.
© 2002 by John H. Betts - All Rights Reserved

---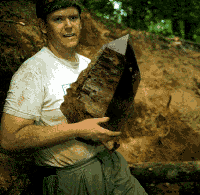 John Betts - Fine Minerals Home Page
Click here for



Minerals For Sale
Order Form - Customer Comments - Galleries - Articles - Purchase Info - Shows - Home - Email me...