---

Selenite Diggings, Kerhonksen, New York

---
This web page is provided as a resource to mineral collectors.
Contact the property owner before entering the property to obtain written permission to collect minerals.
John Betts does not own this property and he cannot grant permission to enter the site.

Minerals: Doubly-terminated crystals of Selenite up to 3 inches long.
Description: Clay bank exposed in side of hill. Dig in clay looking for clear to muddy selenite. Larger crystals tend to be near bottom of bank
Bring: Shovel, hand tools, water to clean specimens, clean change of clothes
Directions: Take Rt. 17 from Middletown to Rt. 209 North (East). Near Kerhonksen watch for exposed clay bank in hill side on your left. Park opposite clay bank at small store.
NOTE: Recent visitors report that collecting at this site is no longer allowed, though the exact status is unknown. It is possible that parking is not allowed, but the site is open. It is also not clear if the people that are expelling collectors are actually the landowners. But be fortewarned.
DO NOT CALL THE OWNER OF THIS WEB SITE REQUESTING PERMISSION OR MORE INFORMATION.
EVERYHTING KNOWN IS PRESENTED HERE ON THE PAGE.
This locality information is for reference purposes only. You should never attempt to visit any mineral localities listed on this site without written permission of the land owner and/or mineral rights owner and that you follow all safety precautions necessary to protect yourself and the property. Unfortunately, the status of mineral collecting sites change often. Inclusion in this site does not give an individual the right to trespass. ALWAYS ASK PERMISSION prior to entering a collecting location. ALWAYS RESPECT THE PROPERTY OWNER, you are his guest. Never enter a property posted no trespassing. When in doubt, do not enter the property.
© 2002 by John H. Betts - All Rights Reserved

---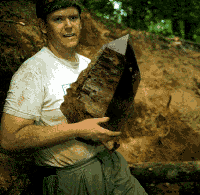 John Betts - Fine Minerals Home Page
Click here for



Minerals For Sale
Order Form - Customer Comments - Galleries - Articles - Purchase Info - Shows - Home - Email me...